We help refugees with finding living space, going to public authorities, obtaining the most necessary and necessities.

We do however also want to support friends and fellow artists who can not leave the country and need help urgently.
Thanks to all who support us in this effort.
If you would like to give financial support
or donations account
McKiev Helps Ukrainians
Bank: Solarisbank AG
IBAN: DE53 1101 0101 5765 6007 75
Reference: HelpUkraine
Inquiries from the Ukrainian side are increasing. More and more people are asking for financial support. People are running out of reserves. They cannot work and they suffer from these conditions. We thank everyone who supports us in this. If you want to provide financial support:
Please contact us if you need a donation receipt, can offer living space or would like to link up.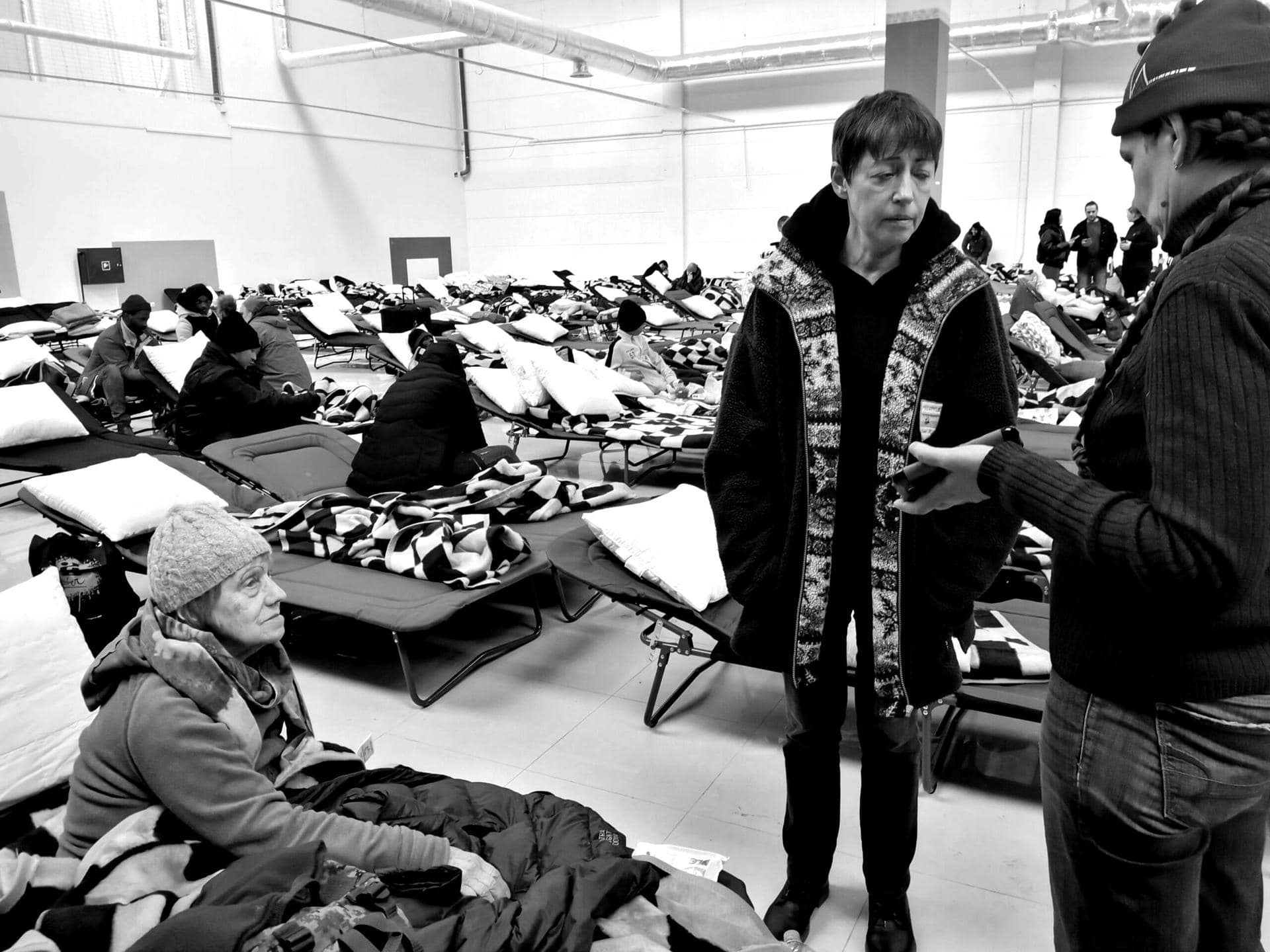 On February 27th, we set out to pick up family members on the Polish border. Our journey then led us on to Hungary, where we could embrace further family members on March 1st. On March 3rd, we then all arrived in Frankfurt. On March 5th, our "office" took up its work.
Friends and fellow artists who can not leave the country and need help urgently and have so far received a donation from us.
Ticker – McKiev Helps Ukrainians
first week of March – German friends contact us, expressing their dismay, promising their support, offering living space and donating money

as of March 5

th

– setting up a PayPal moneypool, to bundle the help

second week of March – collection and distribution of clothes donations in the studio with the help of the fwg (Frankfurter Werkgemeinschaft =

Frankfurt work community)
more family members arrive in Frankfurt


support with the registration in Germany

March 24

th

– support for the setting up of PayPal accounts, so that we can transfer donation funds directly to the Ukraine

March 25

th

– visit to the Staedel Museum with two Ukrainians

March 26

th

, 4.30 a.m. – arrival of a train from Budapest with two further friends from Kiev.

March 26

th

– first payouts of donation funds


each 200,- EUR went to

Elena Mashuk, Gia Miminoshvili, Виктор Буткалюк, Ирина Дмитриева, Оксана Шулятникова, Надя Козак

March 29

th

 – second payouts of donation funds


each 200,- EUR went to Константин Мельник, Едуард Межул

April 1st  Opening of the exhibition: ANLITZE as part of the European Days of Crafts, the proceeds of which also go to our initiative

April 3rd third payment of donations EUR 200 each went to Oleksandr Shkalikov, Pavlo Drabkin (Pottery Park), Юра and Настя Кулишенко
April 3

rd

– End of the 30-day PayPal fundraiser – 4568.00 EUR – have been raised so far
April 4

th

Payment of EUR 100 to Sergij Spasonov
April 4

th

Establishment of a new money pool at PayPal to continue fundraising

April 4

th

Payment of a donation of 100 EUR to Сергей Спасьонов
April 6

th

Payment of a donation of EUR 200 to Oleksandr Miroshnychenko
April 7

th

Our friend Arkady has acquired a new order for himself and so we were able to take him and his wife to the airport today, as thankfully this company took over his plane tickets

April 9

th

Help with applications

April 11

th

Payment of a donation of EUR 200 to Oleksandr Surovtsover


1

2 April Payment of a donation of EUR 200 to the Grechko family (Pavel), Olexander Yudin, Olha Ryabusheva, Natalia Natyanina and Andriy Bilonozhko

April 13th Payment of a donation of 200 EUR to Yulia Pashina and Pavlo Gilbo

April 17 Payment of a donation of EUR 200 to Olha Volodyna and Tetiana Peregniak

April 19 Organization of dental treatment for Svitlana Makiievska

Payment of EUR 400 of the proceeds from the exhibition weekend to the donation account

Payment of a donation of EUR 200 to Masha Pronina and Vladimir Bobtenko

April 26 Apartment inspection with Sveta for possible living space

Help opening a German bank account for four refugees

April 27 Development of a campaign "Instead of a birthday present"
Nadia Kosak
Dobroho dnya, Natasho! Shchyro dyakuyu vam za koshty, vzhe nadiyshly i zarakhovani. Hroshi zaraz duzhe potribni, ale meni yakosʹ trokhy soromno. Ruky nohy ye i bomby zverkhu ne padayutʹ, ale nema zmohy poky shcho samiy zarobyty. My ti koshty, shcho za kovidvaktsynatsiyu davaly i shcho bulo na bonusnykh rakhunkakh pererakhuvaly na ZSU. Kupuvaly produkty, shkarpetky, bilyznu i t.r. ditkam, yakykh pereselyly tymchasovo z dytyachykh budynkiv. Sasha z Marynoyu v Kyyevi namahayutʹsya v nochi ( boyatʹsya mitsno zasnuty) trokhy shchosʹ robyty i chas vid chasu, koly vyyutʹ syreny, bihayutʹ na pershyy poverkh. A v denʹ koly, menʹshe strilyayutʹ, namahayutʹsya pospaty. YA splyu z onukom Svyatoslavom i zamistʹ " nadobranich" vin prosytʹ hovoryty Slava Ukrayini, shchob vidpovisty Heroyam slava, a shchoranku zapytuye, nu shcho Putin shche ne zdokh? Vesʹ svit mabutʹ chekaye pozytyvnu vidpovidʹ na tse pytannya. Shche raz dyakuyu za hroshovyy perekaz, peredavay vitannya vsim svoyim.
Elena Mashuk
Спасибо вам огромное))))
Vielen Dank
Oksana Shulyatnikova
Mein Name ist Oksana, und der Name meines Mannes ist Dmitry, und unsere beiden Hunde sind Adam und Isa. Wir sind eine junge Familie aus Kiew, der Hauptstadt der Ukraine. Ich arbeite in einem kleinen Studio als Custom Leather Product Maker. Dmitry arbeitet als Monteur an der Produktionslinie von Geräten für die Haussicherheit.
Wir lieben es, abends Gerichte aus verschiedenen Kulturen zu kochen, bevor wir am Wochenende gute Filme und aktive Familienferien im Park erleben.
Aber alles hat sich geändert…
In der Nacht des 24. Februar wurden wir von Explosionen und heulenden Sirenen geweckt. Die Besatzer drangen in das Territorium unseres Landes ein und begannen, Raketenangriffe auf die großen Städte unseres geliebten Landes durchzuführen. Schock, Panik, Angst!
Unser Leben hat sich bis zur Unkenntlichkeit verändert. Tage werden durch militärische Aktionen gemessen, Stunden durch Unterkünfte und Minuten auf der Suche nach Nahrung und Frieden.
Ich habe Asthma bronchiale und benötige Medikamente. Unter den Bedingungen der Feindseligkeiten in der Stadt, in der Schlange der Apotheke zu stehen, wurde für uns zu einer schwierigen Prüfung.
Unsere Kochabende wurden zu einer eiligen Zubereitung von einfachen Speisen zwischen den Sirenen. Und endlose Neuigkeiten ersetzten uns das Anschauen von Filmen.
Wir sind in Kiew geblieben, wir lieben unser Land, wir werden überleben und nirgendwo hingehen. Das ist unsere Heimat und unser Land! Danke an jeden von euch, dass ihr unser Land und uns in diesem Kampf unterstützt!
Wir glauben, dass unser Land und wir alle bald diesen Faschismus und den Völkermord an unserem Volk besiegen werden. Und wir werden unser altes Leben mit unseren üblichen Sorgen und angenehmen Spaziergängen im Park mit unseren Haustieren leben.
Andrii Bilonozhko
Hello Stephan and Natalia! Thank you very much for your help. My mother and I are very grateful to you. Your help is important to us. May God help and keep you. Thanks again. Sincerely yours, Andrii.
Pavel Grechko
Thank you very much! During these hard times for us your kindness and help are much appreciated. Pavel.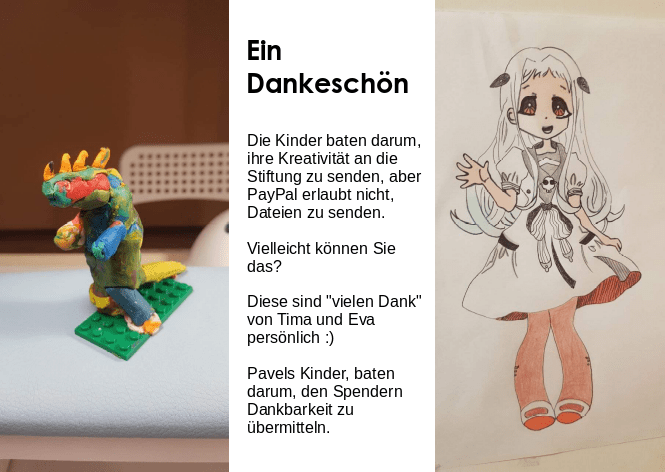 Olga Rjabuschewa
Many thanks for your help and support. We hug you🤗